Like people, trees respond to what happens to them. What they live through creates their character.
Sunlight and soil, ice and wind...  All these things leave their unique mark on the inside.

 

I work with wood's diverse color, grain, and texture, patiently and meticulously, to reveal the 'inside story'.
And like people, this story hidden beneath the bark is beautiful and forever astonishing.
Biography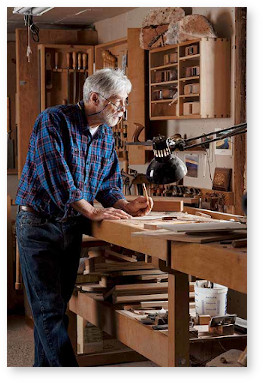 Craig Altobello was introduced to woodworking in 1978 during a workshop with designer/craftsman Thomas Moser of Maine. Ever since, he has been making furniture for his family and friends. Craig has attended workshops at Haystack School of Crafts and the Center for Furniture Craftsmanship in Maine; Shelburne Craft School in Vermont; and the Sharon Arts Center in Peterborough, NH.
Craig's path to marquetry grew out of teaching middle school science, where he and his students documented their outdoor explorations through writing and art using cut paper collage. Craig saw the potential to work with the colors and grain patterns of wood to bring "collage" to his woodworking.
He traveled to the College of the Redwoods in California to learn marquetry. The knowledge and skills gained in that course provided a touchstone experience and launched him into his current work.
Craig is a juried member of the League of New Hampshire Craftsmen and the Sharon Arts Center in Peterborough, NH. He is a participant in the annual Monadnock Art Open Studio Art Tour held annually on Columbus Day weekend.
Publications