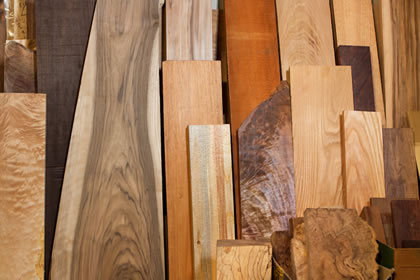 I use the natural color, grain, and texture of wood to create images inspired by nature.  This type of art, called marquetry, is a centuries old inlay technique, in which thin slices of wood are used to form an image. It is wood's diverse character that excites me. I search for just the right woods to match the piece I am creating.  Sycamore can resemble the feathers of a bird, the swirling pattern of sweet gum suggests clouds.
By sawing my own veneer, I can use woods from local New Hampshire trees, responsibly cut woods from distant places, scraps from other woodworkers, and lumber milled from storm-damaged trees. My process is illustrated below.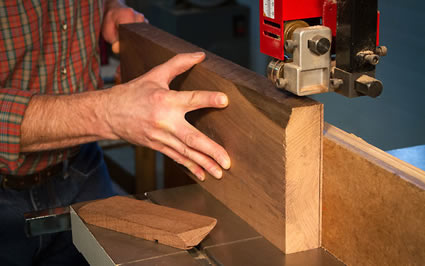 Using a bandsaw I cut wood into thin slices about 1/16" thick.
My drawing flows from my sketchbook to tracing paper.
Then using carbon paper the design is transferred to the wood background panel.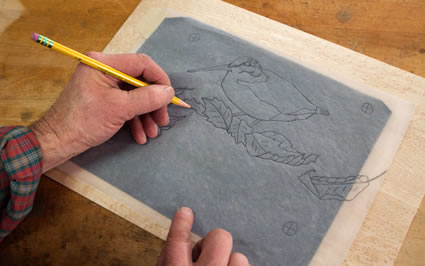 To create a precise fit with no gaps I cut two layers of veneer at the same time.
With the scroll saw set at an angle, the result is that both the inlay piece and the background panel have beveled edges and fit perfectly together.
To add visual depth, I dip some of the inlay pieces in hot sand to darken an edge. You can see evidence of "sand shading" throughout my work.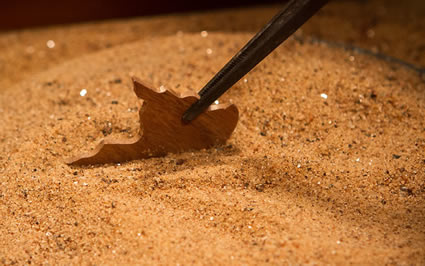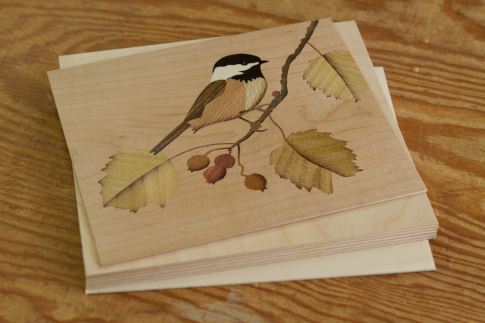 Once the marquetry image is complete it is glued to a stable layer of plywood and a backing of hardwood.
I mix my own shellac in small batches for a fresh finish. Shellac is made from the secretions of the lac bug.
The final coat is beeswax polish.